Rocketdesk is an exciting new home for start-up, indie and freelance creative technology professionals in the Guildford, Surrey area.

Whether you're creating games, developing apps, editing video, building websites or working in any other creative technology field, you'll be welcome in the friendly ROCKETDESK community.
Join us in our high-quality, open-plan workspace at the Surrey Research Park; home to innovative development studios and world-leading tech firms. Rocketdesk was created to help foster and grow the creative tech community and development communities in Guildford. Surround yourself with passionate and experienced independent professionals and push your knowledge to the next level!
Rocketdesk Membership benefits
Receive desk space in a high-quality, air-conditioned office
____________
Benefit from being surrounded by a community of skilled industry professionals.
Join social nights, development events and more.
____________
Very high speed broadband Internet access on a non-contended line.
Benefit from strong industry links to other developers, service providers, publishers and platform holders.



Join Rocketdesk today. Fill in the form or send us an e-mail and we'll get back to you with more information on membership. If you'd like to pop in for a coffee and a nose around then let us know which day works for you.
We also welcome input from potential sponsors or collaborators - we can't wait to hear from you!
Don't like forms? email us at:
ROCKETDESK is based in the Surrey Research Park, a prestigious and dynamic tech-focused environment with links to the University of Surrey.
The working environment is modern and comfortable, but with the benefit of being located in one of Guildford's green spaces. You will work in a beautiful low-density environment, with many open grass-spaces and two lakes on-site. The SRP is located in the town of Guildford, which has been a hub of UK video game development for many years now.
Guildford has been called the "Hollywood of video games", and it's easy to see why. Many important titles, such as Bullfrog's Theme Park, Dungeon Keeper, and Syndicate franchises were all made in Guildford. The racing studio Criterion built the Burnout franchise here. Lionhead created Black & White, Fable and others in the area. Electronic Arts, Ubisoft, Epic Games (Unreal) and other important worldwide companies all have major offices in Guildford.
Guildford also has a rich heritage in wider technology beyond the video games sector, with many successful web, tech and creative companies located in the town. This includes high-tech success stories like Surrey Satellite Technology: the world's premier provider of commercial satellite programmes.
Guildford is located on the main line railway to London, so you can be in Central London in about 35 minutes. Likewise, the Surrey Research Park has excellent transport links via the A3, allowing car users to be on the M25 in just a few minutes.
The area also benefits from excellent schools and educational establishments, and a strong community focus for game developers and other tech professionals. Join us for regular pub meets and other community events throughout the year. Guildford also plays host to a number of professional sporting teams (football, ice-hockey, basketball), amateur sports of all types and a variety of watersports (kayaking) on the River Wey.
Next door to the Surrey Research Park is the Surrey Sports Park, with some incredible sporting and fitness facilities. About 10 minutes drive away is the Guildford Spectrum Leisure Complex, with further fitness and sporting opportunities available there.
Rocketdesk hosts several social events throughout the year. Our members also attend various other groups, events and conferences hosted by other individuals and companies. We've collected a few of our favourites here.
JOIN THE ROCKETDESK COMMUNITY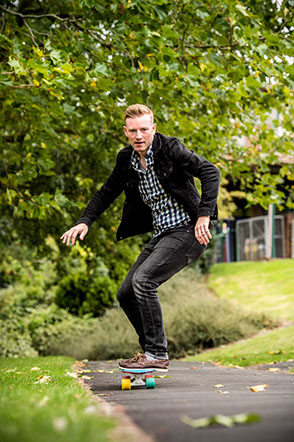 Rocketdesk is a community-led venture. Our members are the life-blood of the space, and more importantly they are our friends and colleagues. If you're a creative tech professional then we'd love you to join us.
Rocketdesk offers clear and fair pricing for everyone. Benefit from making the studio your permanent home, and cancel with just one month's notice if your situation should change. No hidden costs or fees, just honest and straightforward membership.

Dedicated, full-time Membership
ADDITIONAL ADD-ON SERVICES
Benefit from 24/7 access to the studio and a permanent, dedicated desk to call your own. Leave your equipment at Rocketdesk, with use of a lockable drawer unit. Make Rocketdesk your permanent home and make the most of our friendly and productive community.
Rent a lockable storage locker for securely stowing equipment - £80/month (+VAT)
Use the studio as your registered business address - £25/month (+VAT)
Please note: our facilities are reserved for our members; we do not rent meeting rooms to non-members.
You'll benefit from:
Fair pricing - we're one of the best value choices for start-ups and freelancers in the area.
Flexible month-by-month rolling contracts; cancel your membership at any time. Just give us 30 days notice so that we're able to fill the space efficiently.
Very high speed broadband Internet access on a non-contended line, provided as part of the University backbone access.
Use of high-quality meeting rooms, a fun break-out/kitchen area (with table football!), and on-site shower facilities.
24 hour on-site security at the Surrey Research Park.
Be part of a growing community, including social nights, development events and more.
Copyright © 2021 Rocketdesk Guildford.